Recently, I have been wanting to learn English conversation, and recently I took a lesson at Rarejob, a well-known online English conversation service.
The reason I chose this place was simply because it was cheap, but when I actually took the test, I was very impressed by how kind and very accommodating the doctor was.
I would like to talk about that.
Click here for the online lesson "Rare Job English Conversation".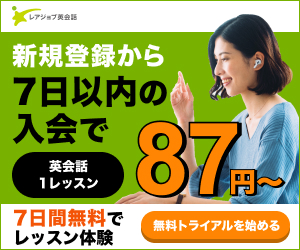 English conversation lessons via Skype at a reasonable price.
I was considering going on a working holiday, so I had a friend who speaks fluent English give me lessons and I was studying English conversation.
On a daily basis, I listen to English conversation podcasts every day. (My favorite is Bilingual News)
You will never be able to speak English with input-based study methods alone.
I had experienced that firsthand, so I thought I had to speak anyway, so I was looking for an English conversation class. But they are all expensive....
So I went online and found it.ReaJob English Conversation

It was.
Skype English Conversation RareJob is cheap.
ReaJob English Conversation

is a service that allows you to have an English conversation with a professional English conversation teacher locally (like in the Philippines) online using Skype.
It was a huge topic of conversation for a while, so many people must know about it.
ReaJob English ConversationHere's what the fee schedule looks like (please check the website for the latest rates)
SOURCE:https://www.rarejob.com/
Daily English Conversation Course25 minutes daily / 7,980 yen/month (tax included)
And with a free trial at first, I had no choice but to give it a try! I immediately signed up and got started.
The teacher I nominated for the rare job lesson is a mom living in the Philippines.
*This is the information at the time of the experience.
ReaJob English Conversation

You can search for your desired lesson time, whether it is suitable for beginners or beginners, and so on.
From the profiles of the teachers on the listYour own preference.I just chose a teacher who seemed kind and gentle and made a reservation.
I waited until my appointment time with a sense of dread.
And finally, it was time.Calling from the teacher.
Here we go! Skype English Conversation Starts!
When I answered the phone and said hello, he responded with a hello hello ♪ (his voice was high-pitched).
He was kind of a teacher with a full-blown yasashii atmosphere, just like his profile.
I introduced myself at first in a very terse manner, and then the teacher told me a little about his personal life and what he was doing outside of this English conversation.
and
'Well then! Let's get to the lesson."Lesson start.
The teacher had prepared the material for us, and while reading it, we were instructed to "I'm going to ask you a question about something in this material, and you are to respond in your own words.
Skype allows you to chat while conversing, so if I couldn't understand something, I would use the chat to ask questions.
(I also used the materials from this chat.)
And the teacher also said that I sometimes stop thinking andFreeze.I was so impressed with the way they were able to see the difference between the two that they even started typing.
But it's no good if you don't speak English, so talk as much as you can! Talk! The teacher was very kind and helped me keep up the pace.
And he spoke super slowly. Tears.
There were occasional laughs, and I was full of them, but I enjoyed them in their own way.
I managed to understand the teacher's biting English.
In the blink of an eye, the 25-minute English conversation lesson is over.
The 25 minutes went by surprisingly fast, and the teacher began to say goodbye!
The doctor told me.
Teacher: GOOD JOB - how was it?
Me: I was nervous. I'm sorry for my poor English.
Doctor: It doesn't matter. You must be tired.
Me: Yes (I don't have the vocabulary to say anything but yes right now)
Teacher: Today is your first lesson, right? I have something to tell you. It's very important.
Me: Yes.
Sensei: You know, I want you to continue to do lessons like the one you did today every day. It's important to keep going, even if it's just for a little bit every day. Many people quit. That's why it's important.
Me: Yes.
Teacher: It never has to be me. There are so many other great teachers out there. I don't do this job every day either. But I do set aside time every day for lessons, to talk. This is a book.It's really, really important. Talk about it.
The teacher repeatedlyVery important! You know what I mean?He repeatedly told me.
He kept making sure I understood what he was talking about, and kept talking to me about how important it was.
I could only say yes or thank you.....................................very much appreciated.
I was already... I was really extremely moved.
The teacher is simply giving advice on learning English, but I can't forget his tone, or rather, his serious and passionate tone, and I can't forget that look on his face, even though the time is already 25 minutes overdue.
At the end of the session, we thanked each other and said "bye" to each other.
summary
ReaJob English Conversation

I had this kind of memory of the
I don't know about other teachers, but this experience made me think that RareJob's teachers might be good.
It is just a matter of preference, and you can do it with any teacher you like, so find one you enjoy and give it a try.
Click here for the online lesson "Rare Job English Conversation".