I love fortune-telling and I am a free online fortune-telling gypsy.
But there are limits to what you can view for free. Some of them may not be reliable.
That's where I'd like to get a face-to-face or private fortune-telling assessment! But, I'm not sure if I can get aDivination is expensive: ・・・・Moreover, I am too lazy to go to the store.
Coconara is useful in such cases. Yes, I am. Thank you, Coconara.
You can get a fortune-telling appraisal at a reasonable price, with the lowest price from 500 yen for a single session.
This time, I would like to introduce you to Coconara, why I recommend it, and what you need to know about it.
(Prices are correct at the time of publication. Prices are subject to change.)
About Coconara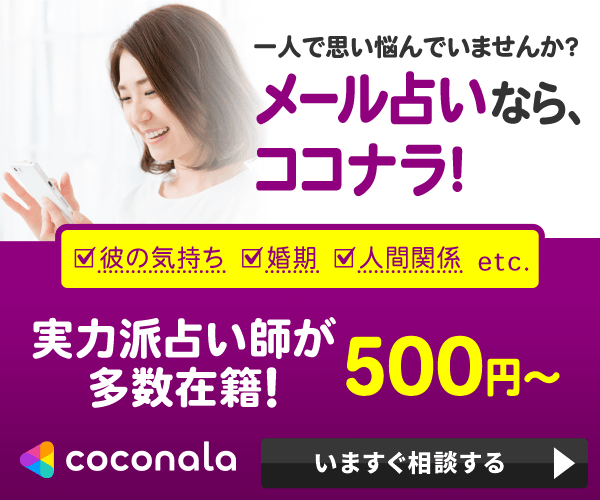 Coconara is an online marketplace for personal skills.
A place where "teach individuals" and "learn from individuals" can come and go, utilizing individual skills and hobbies.
With large corporate schools, enrollment fees and course fees are high, but since Coconara is basically a person-to-person exchange, it can be done at a low price.
There are so many more services like this!
I have used this site many times to fulfill my own desires in my daily life, private life, and work, such as "I want to know a little bit more about this! I have used this site many times myself.
The service is truly itchy, with many exhibits that are flexible because they are personal, and can quickly solve minor problems.
Examples of Coconara's Exhibits
Web-related consultation (SEO, advertising management, site diagnosis)
Business consultation (advice on starting or opening a business, correction of proposals, preparation of documents on behalf of clients)
Consultation on portraits and illustrations (blog icons, VTuber character creation, illustrations for product introductions)
Design consultation (corporate logo, flyer design, business card design)
Fortune-telling and spirituality
In addition to this, there are also unique and diverse exhibits that say, "I've been waiting for this kind of service!" and there are also unique and diverse exhibits, so it's fun just to look at them. w
Click here for the official Coconara website.

Fortune-telling from as low as 500 yen. Coconara's fortune-telling service is amazing!
If you are looking for an inexpensive private consultation, check out Coconara first.
Fortune-telling, but cheap.There are a lot of things.
There are a tremendous number of different types of divination.There is a really crazy amount of ...
For example, ....
Numerology, Mayan calendar reading, tarot reading, astrology, arithmetic, animal fortune-telling, feng shui, etc...
Some correspondence is done by email and some by phone. (Phone readings are somewhat more personal? (I have the impression that the phone readings are a little higher in my opinion.)
Prices range from 500 yen at the lowest to more than 10,000 yen, and some sellers set the price for one time, while others set the price by the minute, such as how much per minute for a phone call.
I'm a sucker for cheap. I used to use the 500 yen per time.
Advantages and Disadvantages of Coconara's Fortune Telling (Points)
The advantages and disadvantages can be summarized as follows
Advantages
Compared to large schools

low price

is found
Flexibility is easy since it is a personal interaction.
We have a detailed menu that the big companies can't offer.
No complicated contracts or paperwork (payment is completed on the site)
Reviews are posted to help you choose a teacher.
Anonymous or nickname communication is possible (however, in the case of fortune-telling, the real name may be requested depending on the type of consultation).
demerit
Because it is an individual-to-individual exchange, it is easy for differences in individual abilities to occur.
And then there's the gap of "it's not what I expected."
There are some problems that are unique to private individuals.
anywayA tremendous number of exhibitsSo, on the contrary, I'm lost.
Personally, I use it because it has more advantages, but of course there are disadvantages as well, so you should decide what your priorities are before making your choice.
Why do you recommend Coconara's fortune telling?
Number one.Because they're cheap.It is.
Fortune-telling really is a very different thing. And the results vary considerably from person to person depending on what you are looking for.
So I can't say that all fortune tellers are like this! However, I have asked many fortune tellers in the past, and what I have found is that even if they are inexpensive, many of them give a thorough evaluation. Well, money is involved, right?
To be honest, there are some sellers who seem suspicious.... But since the lowest price is 500 yen, even if the result is not what I expected, I can think, "Well, if it's only 500 yen..." (I try to avoid that as much as possible.)
The next point I would like to recommend is that even though they are inexpensive, everyone takes them seriously. However, this depends on the individual and may not be true for everyone.
So I can't say for sure, but the fortune tellers I have asked for have returned a solid return for the price.
However, thePlease take a moment to select a teacher, including reviews and track record.
The content of the review prior to purchase and the seller's response if a bad review was made. On the contrary, I believe that this is where human nature comes out.
Click here for the official Coconara website.

summary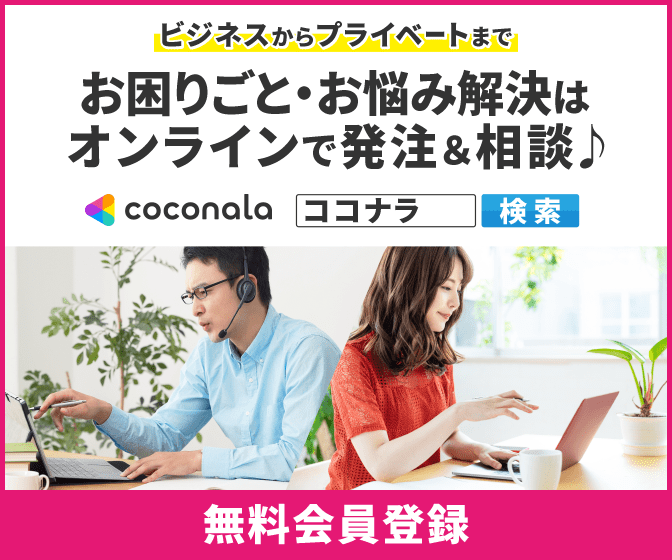 If you're looking for a cheap, personalized fortune-telling consultation, Coconara is the place to go! I am happy to tell you that.
Just looking at the Coconara site is quite fun, so please check it out!